VR-24 Association
WELCOME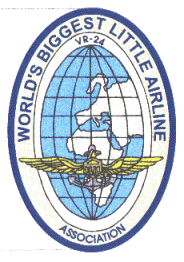 VR-24 Association Mission Statement:
The Association was founded to preserve the memory of VR-24 and its traditions. Although VR-24 was decommissioned in 1993 after 46 years of continual operation, the goal of our Association is to enable all those who served in or supported VR-24 to continue into the future the friendships formed through that service .


VR-24 Historical Summary:
The primary mission of VR-24 was to service the U.S. Navy 6th Fleet in the Mediterranean, and when called upon, U.S. Naval Forces operating in other parts of the world. VR-24 and its Detachments delivered freight, mail, and personnel to U.S., NATO, and friendly foreign bases, ports of call, and via Carrier-On-deck-Delivery, to U.S. Navy ships at sea. VR-24 also performed life-saving medical evacuations and disaster relief missions throughout its far-flung areas of operation. To accomplish their mission, VR-24 air crews often flew in and out of airports that had only primitive communications and navigation aids, cargo handling equipment, and ground support services. Missions were often completed under the most adverse weather conditions. COD aircrews providing the vital link between land bases and ship at sea, often operated at maximum ranges from austere remote detachment sites. The men and women of VR-24 met these challenges through hard work, long hours, and innovation. VR-24 soon became known as the "world's biggest little airline" that could deliver .....................ANYTHING, ANYTIME, ANYWHERE.
VR-24 Web Site:
The purpose of the VR-24 web site is to present an informal and unofficial history of VR-24. The web site contains photographs and material provided by former members and friends of VR-24. Without such support the web site would not exist or prosper.


Reunion Information Updated 17 July 2018
2018 VR-24 Reunion Update! Susan Woods has finalized plans for this year's reunion, which will be held in San Diego from 1 November to 4 November. The location will be at the Handlery Hotel, 950 Hotel Circle N., in San Diego's Mission Valley. Additional information and a Registration Form are shown on the Reunion Page of this website (click on Reunion Information below). Please download/print the Registration Form, fill it out, and return with check to Susan Woods at the address shown on the form. Remember to report that you are with the VR-24 group when making your separate hotel reservations to get the group discount.
Additional Site Pages:
To send website comments or questions:
Click here for email: rprather@pacbell.net
Or call: Dick Prather (760) 789-8225