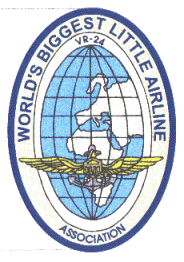 VR-24 History
Worlds Biggest Little Airline
During the summer of 1946 it was determined, in a survey conducted by COMNAVAIRLANT, that a need existed for a Utility Transport Squadron to serve the U.S. Naval Forces in Europe. As a result of this survey, on 3 December 1946 Utility Transport Squadron Four (VRU4) was commissioned at London, England. The squadron beat at this time ranged from Bodo, Norway (inside the Arctic Circle) to Oslo, Stockholm, and Copenhagen in the north, through Bremen, Munich, Frankfort, Amsterdam, Brussels, and Paris in central Europe, to Madrid, Lisbon, Casablanca, Algiers, Nice, Rome, Naples, Malta, Tripoli, and Athens, in the south. Squadron Headquarters was located at Royal Air Force Station Hendon England near downtown London, and a Detachment was established at the Naval Air Facility Port Lyautey, French Morocco in north Africa. Lcdr Harold S. Howard was ordered to the squadron as Commanding Officer (Acting). The commissioning aircraft complement consisted of five R4D and four JRB type aircraft, one of each assigned to the Detachment at Port Lyautey. Regular flights were scheduled once a week from London to Frankfort and Munich, and twice each week to Paris and to Bremen. Planes also flew to all parts of the Continent and throughout the Mediterranean theatre.
All first class mail and most of the parcel post to fleet units operating in Mediterranean and North European waters is delivered by VRU4. Couriers, high ranking State Department, Army, Navy officers and their dependents share space with the cargo that maintains Naval establishments throughout the Mediterranean area.
Major maintenance for all VRU4 aircraft was to be provided by the Port Lyautey detachment. On 10 December 1946 a second Detachment was formed at Naples, Italy with one R4D assigned. This detachment was disestablished in April 1947 upon ratification of the Italian Peace Treaty, and the R4D was reassigned to the Port Lyautey detachment. On 13 January 1947, Cdr. E. F. Jacobs reported for duty as Commanding Officer.
In July 1947 two additional R4D aircraft were assigned to the squadron.
By the Fall of 1947 the workload in the Mediterranean area had increased to such an extent that two additional aircraft, an R4D and a JRB, were transferred from London to Port Lyautey, and the personnel complement consisting of 29 officers and 141 enlisted men was split approximately equal between headquarters and the detachment. Facilities at NAF Port Lyautey were at first meager, but by the summer of 1948, the conditions had improved considerably. The aircraft assigned to VRU4 detachment were inadequate to handle the existing workload in the Mediterranean and consequently on 23 July 1948, two R5D aircraft and crews from VR1 were temporarily attached to VRU4 in Port Lyautey.
On 1 September 1948 the designation of the squadron was changed from Utility Transport Squadron Four to Air Transport Squadron Twenty Four. Also in September CDR James E. Johnson took command of the squadron..
In October 1949, R5D1Z Buno 39148 was assigned to VR24 London to meet the administrative needs of CinC Naval Forces Eastern Atlantic and Mediterranean, (CINCNELM). This aircraft was based at Heathrow airport near London because of limited landing and loading facilities at RAF Station Hendon. This aircraft had been the personal plane of Secretary of the Navy Frank Knox.
On 18 April 1950, the two VR1 R5D aircraft were permanently assigned to VR24. By July 1950 there were three R5D, four R4D, and three JRB type aircraft assigned to VR24. The personnel complement had grown to thirty five officers and two hundred seventy five enlisted men.
On 1 August 1950, Headquarters for VR24 was transferred from RAF Station Hendon to Port Lyautey and the Detachment was established at Hendon.
On 25 August 1950, the first PBM5A arrived at Port Lyautey. Seaplane operation was considered feasible and practical at this time due to the fact that fleet units were frequently operating in remote Mediterranean waters far from any usable airdrome.
On 18 September 1950, Air Transport Squadron Twenty Four became a part of Fleet Logistics Air Wing Atlantic/Continental.
On 15 November 1950, CDR L A Smith relieved CDR Johnson as Commanding Officer.
In the late 40s and early 50s, there was a rather extensive lack of navigational facilities in the areas where VR24 operated, and operations were hampered somewhat. About the only radio navigational facilities available were the old Adcock Radio Ranges. As a result of this, the squadron never flew at night in the Mediterranean, southern European, or north African areas. Wherever the aircraft was at sundown, that is where it stayed until daylight the next morning. When maintenance in the field was deemed necessary, commercial aircraft at times were called upon to fly necessary parts and equipment to the downed VR24 aircraft. Because of this, quite a number of exotic and out of the way places became liberty ports for VR24 plane crews.
VR24 plane crews probably saw more of those "far away places" in a month than many tourists would see in a lifetime. As commitments increased and the larger and longer range aircraft (R5D) were assigned to the squadron, those far away places became much more commonplace. Destinations like Beirut, Daharan, Aden, Asmara, Damascus, Ankara,Dyabikur and Eskashir in Turkey, and New Delhi, along with too many others to mention here, became much more common. VR24 has visited more than 50 countries in Europe, Africa, and the Middle East during its history.
By 1 June of 1951 the aircraft assigned to VR24 at Port Lyautey were four R5D, one R4D, two PBM5A, and one JRB. The London Detachment had one R5DZ, three R4D, and two JRB aircraft. The great airmile distances between Port Lyautey and the various eastern Mediterranean ports used by the fleet units necessitated a staging center in the central Mediterranean area. This central location would provide the needed coordination and liaison and would add immeasurably to the efficiency of operations. Capodichino airport at Naples Italy was decided upon as the site for the location of the new Detachment. One R4D was sent to Capodichino until the permanent detachment could be established. Chief Machinest Mate Litton Tye and an enlisted crew of 35 men arrived at Naples in August 1951 to prepare the area. Facilities at the time were limited. The only buildings in existence were 2 base Butler huts, 2 large Quonset huts, and a prefabricated unit. The new detachment was officially established on 3 September, 1951 with Lcdr G M Harlan as OinC.
On 24 June 1952 VR24 Detachment at London was disestablished and VR25 was established there. Also on that date VR25 Det Naples was established. With the exception of five officers, the personnel and aircraft of VR24 Det Naples were transferred to the VR25 Det Naples. VR25 Det was redesignated as FASRON 77 in July 1953. In April 1954 it was decided to reestablish the VR24 Detachment. The Detachment was comprised mostly of volunteers from FASRON 77. The new OinC was Lcdr Joe Engel. This detachment has been in existence ever since. FASRON 77 was later designated as Naval Air Facility.
On 6 August 1952 CAPT Jesse Burks assumed command of VR24 relieving CDR R A Kincaid as Acting Commanding Officer. (CDR Kincaid was XO under CAPT Smith).
In February of 1952 the first TBM aircraft arrived at Naples Det to be utilized for carrier-on-board delivery (COD). These aircraft along with officers and men to fly and maintain them were transferred to the Detachment from VR22. These aircraft were later phased out and replaced by TF1 type aircraft in 1955. At one time, the Detachment also had a PBY6A assigned for Air/Sea Rescue. This aircraft was later replaced by a UF1.
In June 1954 there was a change of command at which time CAPT Albert Bowker relieved CAPT Burks as Commanding Officer.
In late 1954 the last of the R4Ds departed.
A great inundation in the fall of 1955 caused untold grief in the loss of life, personal injury, and property damage in India. VR24 transports flew round trips of more than 10,000 miles with blankets and disbursing needed medical supplies to these unfortunate victims. These supplies were loaded on board from the International Red Cross Headquarters in Geneva, Switzerland.
In the Spring of 1956 three R5D Skymasters from VR24 carried blankets, food, and other supplies to Turkey where a series of earthquakes accounted for much suffering near Eskashir. Also in the Spring of 1956 a disastrous flood struck the country of Lebanon and rendered 2000 of the population homeless and was directly responsible for more than 100 deaths. R5Ds from VR24 expeditiously flew to the scene with tons of needed whole milk and food.
Again in the Fall of 1956 during the Israeli/Arab 6 day war, VR24 was again called on to help in the evacuation of American and foreign dignitaries from Alexandria, Egypt and Tel Aviv, Israel. VR24 R5Ds were involved in this operation along with transport aircraft from other western nations. Evacuation destinations were Athens, Greece and Naples, Italy. The operation was a success even tho at times the airfield at Tel Aviv was under attack. No VR24 aircraft were damaged or lost.
Also, in April 1956, CAPT Albert Bowker was relieved as Commanding Officer by CAPT R C Knowles.
In 1957 the administrative control of VR24 was shifted from FLOGWING to COMFAIRELM and the squadron designation changed from Air Transport Squadron Twenty Four to Fleet Tactical Support Squadron Twenty Four.
In the Spring of 1957 during President Eisenhowers administration, his policy was to send Vice President Nixon on various diplomatic missions throughout the world. One of these trips was a tour of a goodly portion of Africa. On part of this trip two VR24 R5Ds were involved, one from Port Lyautey and one from the Naples detachment and consisted of carrying his press corps along with some others of his entourage. VR24s operation began at Kampala, Uganda, then to Addis Ababa, Ethiopia, on to Khartoum in the Sudan, and finally to Tripoli, Libya. This was quite a trip as all expenses were on the White House.
When the cold war threatened to grow hot in Lebanon in 1958, VR24 supported this operation logistically with around the clock flights. The R5Ds flew over 540,000 miles, a distance greater than a round trip to the moon. The COD aircraft accounted for more than 360,000 miles flown, or approximately 14 global circuits.
On 25 July 1958, CAPT L E Harmon assumed command of VR24 relieving CAPT Knowles. The squadron earned for the second consecutive year the coveted CNO Safety Award
In November 1959 a small child sustained severe brain damage in an automobile collision in Accra, Ghana. Two Navy doctors from Port Lyautey were flown to the scene by a VR24 R5D to join a team of specialists in an endeavor to save the child's life. It was a successful mission.
Also in November 1959, at a change of command ceremony CAPT Harmon was relieved by CAPT W A Hood Jr. as Commanding Officer.
On 29 February 1960, one of the most awesome tragedies of the 20th century struck the peaceful resort city of Agadir in southern Morocco. A violent earthquake transformed the city into a chaotic mass of rubble in a matter of seconds. Within a few hours the aircraft of VR24 were launched both from Port Lyautey and Naples with rescue teams, medical supplies, provisions and other emergency supplies for the suffering people in Agadir. For the next week VR24 aircraft flew around the clock evacuating the injured and homeless. Hundreds of people were evacuated and a half million pounds of emergency supplies were transported to the once placid city by VR24.
In the spring of 1960 VR24 had its first serious accident. An R5D bound from Naples to Rota hit a mountain in Granada Spain. It seemed to be a miracle as airplanes just don't hit mountains and everyone walk away. This was the case here, and even tho some were carried down the mountain, there were no fatalities.
Again in 1960 VR24 had another piece of bad luck. One morning on a training flight at Port Lyautey one R5D on takeoff crossed the Sebou river and immediately crashed on the other side of the river. The crew just opened the hatches on this one and stepped outside. There were a couple of bumps and bruises on this one but no serious injuries whatsoever. There's and old saying that says any landing you walk away from is a good one. If the airplane can be used again it is considered a great landing. In both of these incidents tho neither aircraft could be used again.
In the summer of 1960 with the outbreak of the civil war in the Congo, the USS Wasp was dispatched to the west African area for the evacuation of American citizens there. VR24 was again called on for another of many "special missions" in its history. One R5D was sent from Port Lyautey to Dakar, French West Africa with a load of various tropical disease serums for inoculation of all personnel who might become involved in this operation. The serums were transferred to the Wasp at Dakar which then proceeded on to its destination and the R5D returned to Port Lyautey. Another "routine" special mission accomplished.
Early 1961 saw the arrival of the first of four R4Q aircraft to augment the R5Ds along with pilots and some maintenance personnel.
Also in 1961, VR24 began operations in west and central Africa in support of VQ2 operations in that area. Both R5D and R4Q type aircraft were involved. Flights to Dakar French West Africa, Monrovia Liberia, Abidjan Ivory Coast, Libreville Gabon, and Brazzaville in the Congo became routine and were still being flown into 1962. Again, during the entire period, all operations were completed with no mishaps of any nature with one exception. An R4Q on a return flight to Port Lyautey from Abidjan lost an engine over Freetown Sierra Leone which required a new engine and several days layover. A new engine was flown in from Port Lyautey along with an engine change crew. In no time at all, all hands and the aircraft were on their way home.
On 17 February 1962 CAPT T R Perry assumed command of VR24. He relieved CAPT Hood who retired from the Navy after 26 years.
A major equipment change occurred in 1962, triggered by the arrival of the first GV1U (C 130) Hercules on 28 February. By June the last of four previously assigned R4Q Flying Boxcars had departed to Litchfield Park and VR24 was then operating 4 C-130 and 4 R5D aircraft out of Port Lyautey.
During the summer of 1963 VR24 Headquarters were moved from the U S Naval Air Facility at Port Lyautey, Morocco to the Naval Station, Rota Spain, thus ending seventeen years of continuous operations at Port Lyautey.
Operational commitments as scheduled by Naval Air Logistics Coordinator European Representative in Naples have taken VR24 aircraft and crews to nearly every major city and many small ones in the European and Mediterranean areas including London, Madrid, Istanbul, Ankara, Barcelona, Berlin, Frankfort, Paris, Rome, Genoa, Pisa, Athens, Nicosia, Beirut, Cairo, Casablanca, Khartoum, Algiers, Kampala, Addis Ababa, Aden, Vienna, Copenhagen, Oslo, Tripoli, and many many others reaching from deep into South Africa all the way to India and Pakistan. Anywhere in that part of the world that there was an airport, it was a good chance that at one time or another a VR24 aircraft had been there.
During the 60s Rota and Naples played musical chairs with squadron headquarters finally ending up in Naples and Rota becoming the Detachment.
Beginning in March 1966 up to March 1967 the squadron supported VR21, NAS Barbers Point, Hawaii, in the Pacific area, with many flights into Vietnam. This was the most distant operation that support of the fleet has carried out.
The Grumman COD aircraft are based at the VR24 Detachment at Capodichino Airdrome at Naples Italy, but routinely operate from isolated airfields throughout the Mediterranean area where VR24 sets up its advanced bases. The aircraft
are a familiar and welcome sight to the men of the Sixth Fleet, for they fly directly to and from the carriers with personnel, cargo, and the all important mail from home while the fleet operated far at sea. Often the COD aircraft are called upon to evacuate sick or injured personnel in need of hospitalization on shore.
VR24 acts as host squadron to various reserve squadrons including VR894 from Seattle, VR742 from Jacksonville, VR874 from Oakland, VR911 from South Weymouth, VR932 from Willow Grove, VR774 from Los Alamitos, VR704 from Dallas, VR723 from Glenview, VR791 & 792 from Memphis, and VR881 from Olathe. Upon arriving at Port Lyautey, the Reservists are given a thorough briefing. Aboard each Reserve aircraft departing Port Lyautey is a VR24 Plane Commander, a qualified Radio Operator, and Loadmaster to further familiarize the crews with the operations in the Mediterranean area. During their two week cruise the Reserves get the most realistic training possible and are completely integrated within the fleet operations.
"The Worlds Biggest Little Airline" has in one month logged 284,000 flight miles, equivalent to 11 trips around the globe. Its planes have landed safely in 85 knot winds and its crews have unloaded 19,000 pounds of cargo in 47 minutes. In fiscal 1961, VR24 flew 15,719 hours, a distance of 2,446,773 miles, carried 23, 915 passengers, 3,181 tons of cargo, and 847 tons of mail. Never in sixteen years of operation has VR24 incurred a fatality. This splendid record has been achieved with around the clock aircraft operation and is due to the standardization of operating techniques, efficient maintenance , and well trained crews.
The decade of the seventies was marked with significant equipment upgrade in VR24. The last of the R6Ds, (which, along with the C130s had replaced the R5Ds in the sixties) left the squadron in 1972. Long range lift capability remained solely with the C130s. The first of three jet aircraft, CT39G Sabreliners, was delivered to the squadron in October 1973 for operation initially out of Naples, with the C1A Trader and C2A Greyhound COD aircraft. The addition of RH53D Sea Stallion helicopters in December 1977 opened a new era in logistics support as VR24 became the first and only squadron to have all aircraft communities represented simultaneously in one squadron: multi engine turbo prop, reciprocating engine prop, jet and helicopter.
In 1974 VR24 was actively engaged in Project Nimbus Star-Nimbus Moon. A multi national effort which was successful in reopening the Suez Canal. The Saberliners and C130s transported men and material to Ismailia and Cairo to support the US Forces involved the Suez contingency operation.
In January, 1976 VR24 commenced the move to relocate its squadron headquarters to NAF Sigonella, Sicily. By June 1976 the chapter which began in old Napoli 30 years before in December of 1946 (like Port Lyautey) came to an abrupt end. With this move, and type of modern day aircraft VR24 had at this time, the last vestiges of VR24 and its most illustrious past came to an abrupt end and the "Worlds Biggest Little Airline" ceased to exist!!. It was about this time that the squadron was redesignated as the "Lifting Eagles", a most appropriate title for the type of aircraft they were flying and operations they were involved in at this time. The squadron came into the 80s with twenty one aircraft broken down as follows: 3 CT39G Saberliners, 4 C130 Hercules, 6 C1A Traders, 5 C2A Greyhounds, and 3 RH53D Sea Stallions. At this time the personnel complement consisted of 55 officers and 225 enlisted men at Headquarters in Sigonella, and 25 officers and 125 enlisted men at the Rota Detachment. The C1A Trader completed its last mission on 19 April 1984 signifying the end of an era in logistics support that spanned three decades. A part of VR24 since 1955 , the aircraft were ferried to the USS John F Kennedy for further transfer to VRC50. Currently VR24s Lifting Eagles are operating the reprocured Grumman C2A Greyhound and the CT39G Sabreliner.
On 15 October 1984 VR24 Detachment Rota Spain, operating the C130 aircraft, stood up as a new command, VR22. With this event, any vestiges still left of old VR24, with all of its' long range operations for which it had become famous, definitely were gone!!
Since January 1988, VR24 has seen the familiar detachment sites of Souda Bay, Crete and Rota Spain as well as the unfamiliar from as far south as Egypt to as far north as Norway during NATO exercise Ocean Safari.
In 1990 and into 1991, VR24 participated in one of the largest logistics movements the military has ever known in "Operation Desert Shield/Storm. The "Desert Eagles" of VR24 moved over 3 million pounds of mail and cargo and 14,000 passengers during the eight months of detachment in Jeddah, Saudi Arabia. During the summer of 1991, the squadron supported the Kurdish Relief Effort in Operation Provide Comfort.
VR24 began 1992 with multiple Dets in Souda Bay, Rota, and Prestwick, Scotland. The squadron was in Norway during March of 1992 with CVN 69, the USS Eisenhower, participating in Teamwork 1992. At the present time VR24 is once again in Saudi Arabia and the UAE (United Arab Emirates) supporting the Carrier Battle Group in the Persian Gulf.
Early in 1993 the day finally arrived when VR24 would be no more. On 29 January 1993, in a ceremony at NAS Sigonella, Sicily, it was decommissioned (officially 31 March). It had been in commission continuously for 46 years, the longest continuous commissioning of any Transport squadron in the Navy. CDR Allen M Murphy was the last CO of the "Lifting Eagles", formerly known as "The Worlds Biggest Little Airline". During its' lifetime the squadron had accumulated 5 CNO Safety Awards, 3 Meritorious Unit Commendations, and 2 Navy Unit Commendations. In addition to the foregoing, in 1983 it earned the Commodores Trophy for Operational Excellence. In 1986 they were awarded the Commander in Chief, U S Atlantic Fleets Golden Anchor Award, and in 1987 they were awarded the Commander in Chief, U S Naval Air Forces, Europe's Golden Anchor Award.
This squadron history was compiled by Pete Owen with the help of a number of Shipmates, and particularly Lt. Harry Farmer, who in 1982 in Washington, DC, procured the early squadron history from the Naval Archives and other sources. This history is not 100% accurate and was not intended to be, but to achieve an overall picture of the squadron and its' activities for all to read and enjoy